Welcome to the online gift shop at the Mermaid Cove!     
You are now about to leave the safety of solid ground and give into the beckoning call of the mesmerizing sea.
We are mermaid merchants, relentlessly scouring the earth everyday in a quest....a quest to capture every conceivable embodiment of the mermaids essence.   So on with you mates and maties!
Embrace the enchantress of the sea and venture into the depths below on your own personal quest.... Your quest to capture the sea mistress of your desires....or of course....one of her "friends"!
ACCENT LAMP-GRACEFUL MERMAID
TL3944D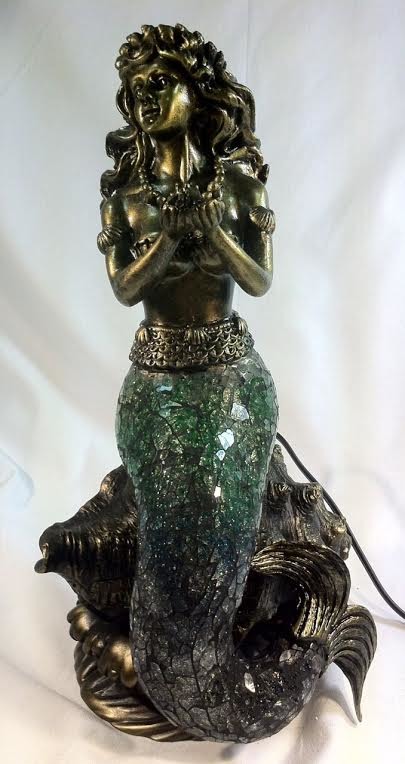 This fascinating resting mermaid is a lamp that perfectly accents any area needing a soft, warm light. Very subtle and quite unusual, this makes an excellent gift for any occasion you desire to inspire delight. Shell base is made of smooth bronzed finish resin and her tail of blue-green crackle glass produces an enticing glow. She measures almost 13 inches tall. She is both charming and attractive!
(excluding shipping)
*You will be sent one of these two styles*