Welcome to the online gift shop at the Mermaid Cove!     
You are now about to leave the safety of solid ground and give into the beckoning call of the mesmerizing sea.
We are mermaid merchants, relentlessly scouring the earth everyday in a quest....a quest to capture every conceivable embodiment of the mermaids essence.   So on with you mates and maties!
Embrace the enchantress of the sea and venture into the depths below on your own personal quest.... Your quest to capture the sea mistress of your desires....or of course....one of her "friends"!
ACCENT LAMP-SEA GODDESS
TL4381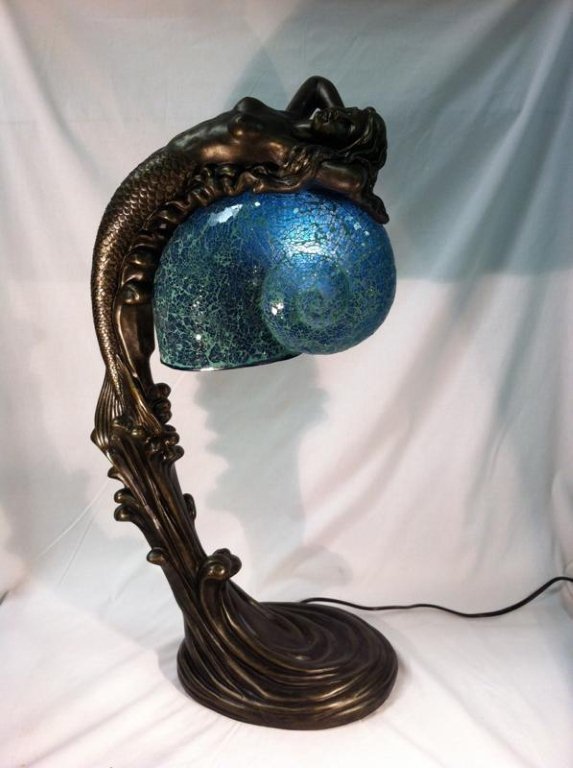 This sea goddess of timeless beauty stands approximately 29 inches tall and 16 inches wide. The lamp is constructed of high quality, steel reinforced poly-resin that resembles solid brass. Below the arched back of the mermaid a crackled glass nautilus shell that is easily removed for access to the bulb. An inline on/off switch is included. Guys will love her adorning their bar, gals will love her embellishing their bath.
Because of the shape and nature of this product, shipping fees are a little extra due to the extra care and materials required to prevent damage while in transit. They are professionally packed by trained Federal Express staff to insure they arrive safely.
(excluding shipping)
*You will be sent one of these two styles*