Welcome to the online gift shop at the Mermaid Cove!     
You are now about to leave the safety of solid ground and give into the beckoning call of the mesmerizing sea.
We are mermaid merchants, relentlessly scouring the earth everyday in a quest....a quest to capture every conceivable embodiment of the mermaids essence.   So on with you mates and maties!
Embrace the enchantress of the sea and venture into the depths below on your own personal quest.... Your quest to capture the sea mistress of your desires....or of course....one of her "friends"!
ACCENT LAMP-TALL CORAL TAIL EMPRESS
TL4367B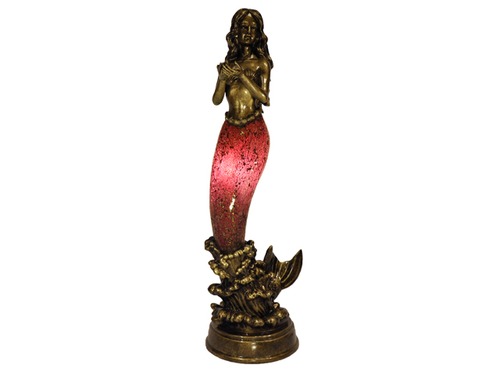 This stunning mermaid lamp defines the essence of the empress of the sea. She stands 27 inches tall and her crackled glass tail artfully illuminates any area in which she dwells. Constructed of high quality poly-resin, this extraordinary lamp is not only dramatic.....she absolutely makes a splash! Base is 8 inches in diameter. This color is special order only.
Because of the shape and nature of this product, shipping fees are a little extra due to the extra care and materials required to prevent damage while in transit. They are professionally packed by trained Federal Express staff to insure they arrive safely.

(excluding shipping)
*You will be sent one of these two styles*