Welcome to the online gift shop at the Mermaid Cove!     
You are now about to leave the safety of solid ground and give into the beckoning call of the mesmerizing sea.
We are mermaid merchants, relentlessly scouring the earth everyday in a quest....a quest to capture every conceivable embodiment of the mermaids essence.   So on with you mates and maties!
Embrace the enchantress of the sea and venture into the depths below on your own personal quest.... Your quest to capture the sea mistress of your desires....or of course....one of her "friends"!
COPPER DRIP WALL ART-SEAHORSE-STRAIGHT TAIL
CP055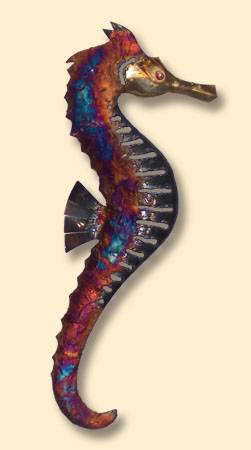 Rare and mysterious, the seahorse is a timeless creation that mystifies the mermaid's curiosity! These works of art are hand cut from recycled sheet metal of various gauges, then coated with drips of copper and sometimes brass. The brilliant colors come alive from the copper being heated to various temperatures. Three sizes to choose from.  A great gift for any aficionado of sea life creatures!
SIZE
Small - 4.5"W x 12"H (0) Medium - 5.75"W x 16"H (8) Large - 6.5"W x 18"H (18)
(excluding shipping)
*You will be sent one of these two styles*