Welcome to the online gift shop at the Mermaid Cove!     
You are now about to leave the safety of solid ground and give into the beckoning call of the mesmerizing sea.
We are mermaid merchants, relentlessly scouring the earth everyday in a quest....a quest to capture every conceivable embodiment of the mermaids essence.   So on with you mates and maties!
Embrace the enchantress of the sea and venture into the depths below on your own personal quest.... Your quest to capture the sea mistress of your desires....or of course....one of her "friends"!
DESIGNER JEWELRY-14k GOLD AND STERLING SILVER MERMAID SLIDE
SGS100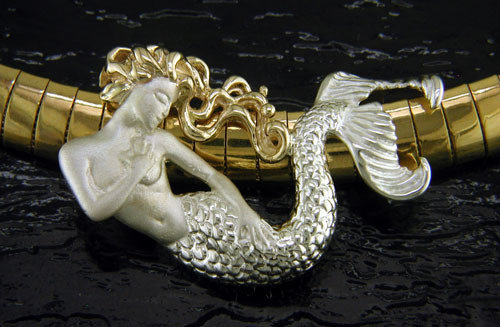 Acclaimed artist and designer Steven Douglas presents elegant creations in 14K gold, sterling silver, pearls, diamonds and precious gemstones. Unequaled in originality and appeal, these exquisite renderings of the mermaid's zeal and energy will dazzle your senses. Presented here is the "LOUNGING MERMAID" slide. It is designed to create a distinct focal point with over-sized bales on the back to accommodate wider omega chains. (Note: Omega slide as picture is not included, it is provided to allow the viewer to envision the slide on an omega chain). Included is an 18in 3.Omm leather cord with sterling silver findings.
SIZE: 1 5/16in. /33mm wide.Comes with Certificate of Authenticity. IN STOCK READY FOR DELIVERY





Item is shipped USPS Priority Flat Rate, Insured and Signature Required
(excluding shipping)
*You will be sent one of these two styles*