Welcome to the online gift shop at the Mermaid Cove!     
You are now about to leave the safety of solid ground and give into the beckoning call of the mesmerizing sea.
We are mermaid merchants, relentlessly scouring the earth everyday in a quest....a quest to capture every conceivable embodiment of the mermaids essence.   So on with you mates and maties!
Embrace the enchantress of the sea and venture into the depths below on your own personal quest.... Your quest to capture the sea mistress of your desires....or of course....one of her "friends"!
DESIGNER JEWELRY-14k GOLD AND STERLING SILVER MERMAID
SGP110B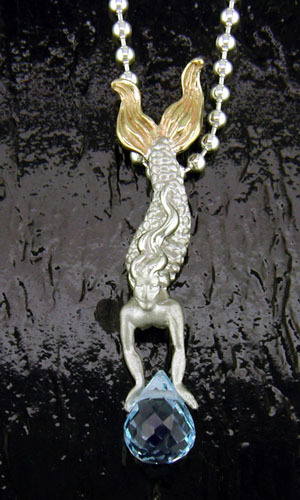 Acclaimed artist and designer Steven Douglas presents elegant creations in 14K gold, sterling silver, pearls, diamonds and precious gemstones. Unequaled in originality and appeal, these exquisite renderings of the mermaid's zeal and energy will dazzle your senses. Here this diva of the deep is suspended from a 1.6mm sterling silver snake chain grasping hold of an 8x6MM Blue Topaz Briolette as she descends into the depths. Simple but profound.
SIZE 1 7/16in/37mm high. Certificate of Authenticity included.
IN STOCK READY FOR DELIVERY
(excluding shipping)
*You will be sent one of these two styles*