Welcome to the online gift shop at the Mermaid Cove!     
You are now about to leave the safety of solid ground and give into the beckoning call of the mesmerizing sea.
We are mermaid merchants, relentlessly scouring the earth everyday in a quest....a quest to capture every conceivable embodiment of the mermaids essence.   So on with you mates and maties!
Embrace the enchantress of the sea and venture into the depths below on your own personal quest.... Your quest to capture the sea mistress of your desires....or of course....one of her "friends"!
DESIGNER JEWELRY-STERLING SILVER-KORU MERMAID
SBM860N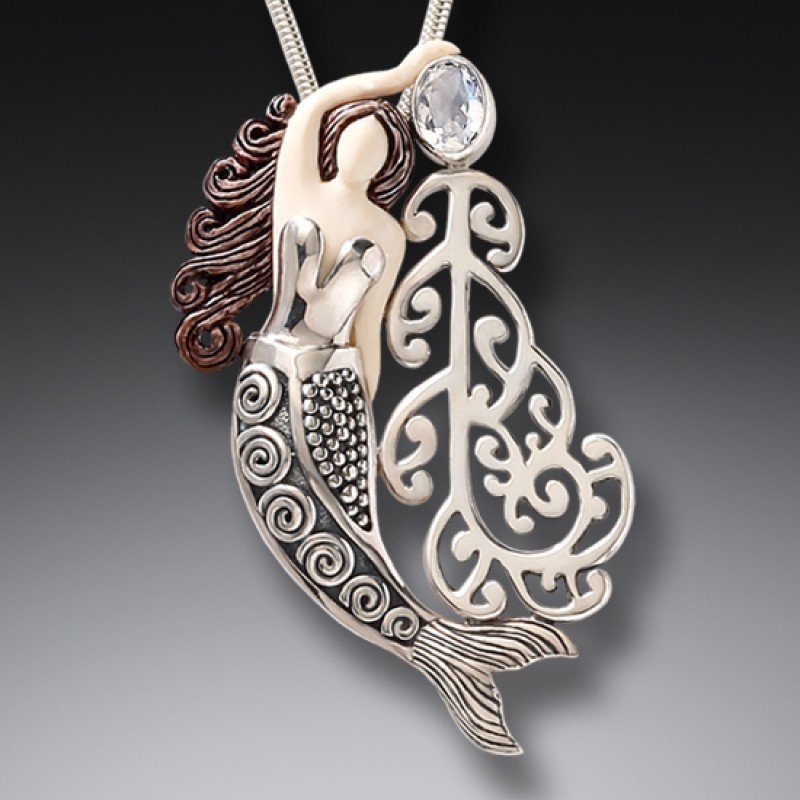 Zealandia Designs by artist and creator Jenny Byrne of New Zealand.
This evocative rainbow moonstone and silver mermaid pendant combines our signature handmade craftsmanship with our designers' passion for unique designs that you'll treasure for a lifetime!
Artisan carved and inked natural bone.
Faceted rainbow moonstone "mirror" accent
Sterling silver mermaid tail and setting
New Zealand Maori Koru (silver fern) detail
(excluding shipping)
*You will be sent one of these two styles*