Welcome to the online gift shop at the Mermaid Cove!     
You are now about to leave the safety of solid ground and give into the beckoning call of the mesmerizing sea.
We are mermaid merchants, relentlessly scouring the earth everyday in a quest....a quest to capture every conceivable embodiment of the mermaids essence.   So on with you mates and maties!
Embrace the enchantress of the sea and venture into the depths below on your own personal quest.... Your quest to capture the sea mistress of your desires....or of course....one of her "friends"!
DESIGNER JEWELRY-STERLING SILVER-WATER SPIRIT
SB750N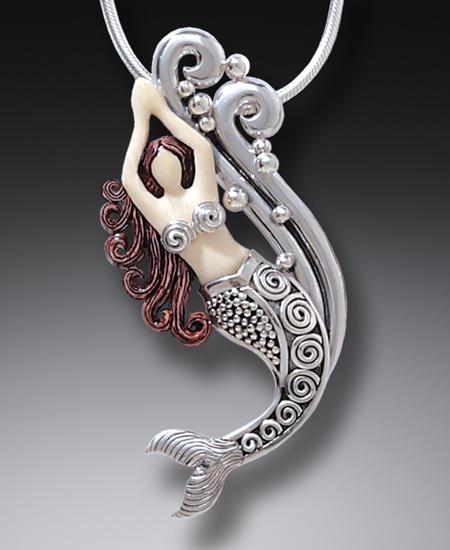 Zealandia Designs by artist and creator Jenny Byrne of New Zealand. Mermaid Collection. A goddess of ageless beauty displaces intoxicating tranquility as she appears to emerge from the elusive deep. Crafted from fine sterling silver and natural bone from Bali, she is a prize to behold. Includes an eighteen inch 1.6mm sterling silver round snake chain. "Each piece individually handcrafted".

Allow 2 weeks for delivery.

Width 3/8" x Height 1 5/8" (approx).
(excluding shipping)
*You will be sent one of these two styles*