Welcome to the online gift shop at the Mermaid Cove!     
You are now about to leave the safety of solid ground and give into the beckoning call of the mesmerizing sea.
We are mermaid merchants, relentlessly scouring the earth everyday in a quest....a quest to capture every conceivable embodiment of the mermaids essence.   So on with you mates and maties!
Embrace the enchantress of the sea and venture into the depths below on your own personal quest.... Your quest to capture the sea mistress of your desires....or of course....one of her "friends"!
FASHION JEWELRY-STARFISH
5069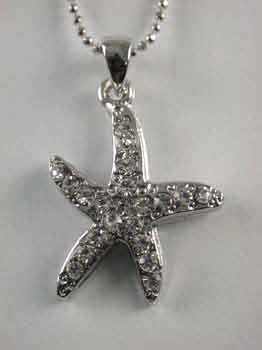 Kinda' quirky and festive, a sprinkling of 20 dazzling rhinestones adorn this starfish...3 in each arrm and a quintet in the center. Creates a distinct focal point to portray your charm.  Measures 3/4 inch square and hangs on a 16 inch ball chain.
(excluding shipping)
*You will be sent one of these two styles*