Welcome to the online gift shop at the Mermaid Cove!     
You are now about to leave the safety of solid ground and give into the beckoning call of the mesmerizing sea.
We are mermaid merchants, relentlessly scouring the earth everyday in a quest....a quest to capture every conceivable embodiment of the mermaids essence.   So on with you mates and maties!
Embrace the enchantress of the sea and venture into the depths below on your own personal quest.... Your quest to capture the sea mistress of your desires....or of course....one of her "friends"!
INCREDIBLE METAL WALL ART-MERMAID WAVE
D-LPS02WS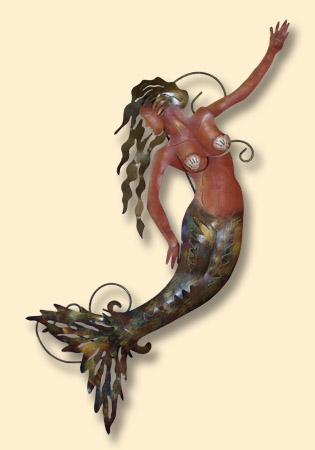 This beautiful wall piece is created from various gauges of sheet metal. After freehand plasma cutting and welding, they are coated with a primer and a sealer. The artist then paints the mermaid with a variety of colors resulting in multiple layers of finish creating the rich final appearance. The unique mounting system places her 3 inches off the wall. She measures 39 inches high and 16 inches wide. Suitable for indoors or out.
SPECIAL ORDER-ALLOW 4-6 WEEKS
(excluding shipping)
*You will be sent one of these two styles*