Welcome to the online gift shop at the Mermaid Cove!     
You are now about to leave the safety of solid ground and give into the beckoning call of the mesmerizing sea.
We are mermaid merchants, relentlessly scouring the earth everyday in a quest....a quest to capture every conceivable embodiment of the mermaids essence.   So on with you mates and maties!
Embrace the enchantress of the sea and venture into the depths below on your own personal quest.... Your quest to capture the sea mistress of your desires....or of course....one of her "friends"!
SIREN SCULPTURE-"TAILS UP"
1YM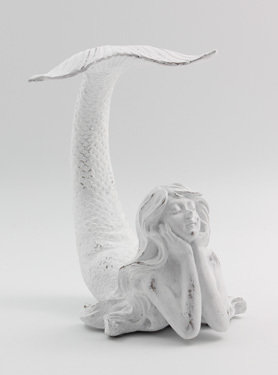 A whimsical empress of the sea appears to be day dreaming as she flips her tail up and around in anticipation of the days frolics in the sea. Resin, distressed white finish. Approximately 8 inches in height and 6 inches in width. "Fintastic" bath decor!
(excluding shipping)
*You will be sent one of these two styles*