Welcome to the online gift shop at the Mermaid Cove!     
You are now about to leave the safety of solid ground and give into the beckoning call of the mesmerizing sea.
We are mermaid merchants, relentlessly scouring the earth everyday in a quest....a quest to capture every conceivable embodiment of the mermaids essence.   So on with you mates and maties!
Embrace the enchantress of the sea and venture into the depths below on your own personal quest.... Your quest to capture the sea mistress of your desires....or of course....one of her "friends"!
SOAP DISH
A603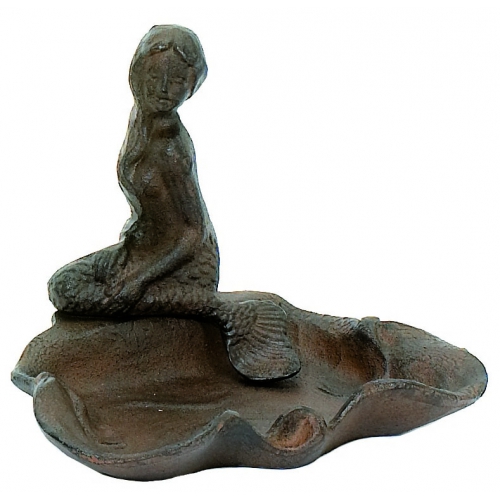 The iron sea maiden is at your service again, gracefully cradling your favorite lather maker. Even that fancy soap bar that dare not ever be used...displays well in this unique mermaid soap dish. Measures 5 inches high and 6.5 inches wide. 'For that homemaker with a mermaid bath, this makes a very surprising gift that carries a lot of weight too! Cast iron.
(excluding shipping)
*You will be sent one of these two styles*