Welcome to the online gift shop at the Mermaid Cove!     
You are now about to leave the safety of solid ground and give into the beckoning call of the mesmerizing sea.
We are mermaid merchants, relentlessly scouring the earth everyday in a quest....a quest to capture every conceivable embodiment of the mermaids essence.   So on with you mates and maties!
Embrace the enchantress of the sea and venture into the depths below on your own personal quest.... Your quest to capture the sea mistress of your desires....or of course....one of her "friends"!
TREASURE KEEPER-MONARCHS OF THE SEA
YTC7773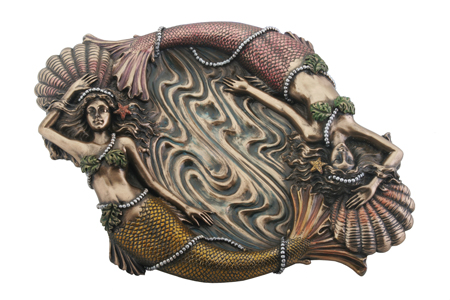 A high quality, cold cast resin treasure holder with intricate detail and a smooth bronze finish that is literally astonishing. You will be absolutely amazed at the craftsmanship. Inviting and alluring, two symmetrically arranged monarchs of the sea, form the enclosure within which prized treasures rest. Measures 10.5 inches long, 8 inches wide, and 1.5 inches in height. 'Leaves a memorable impression.
(excluding shipping)
*You will be sent one of these two styles*