Welcome to the online gift shop at the Mermaid Cove!     
You are now about to leave the safety of solid ground and give into the beckoning call of the mesmerizing sea.
We are mermaid merchants, relentlessly scouring the earth everyday in a quest....a quest to capture every conceivable embodiment of the mermaids essence.   So on with you mates and maties!
Embrace the enchantress of the sea and venture into the depths below on your own personal quest.... Your quest to capture the sea mistress of your desires....or of course....one of her "friends"!
WALL ART-3D REFRACTION-MERMAID AND DOLPHIN
4NIM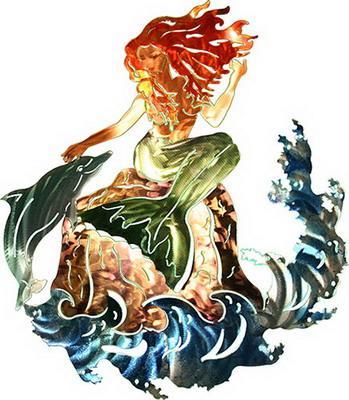 This 3D refraction process incorporates light reflections with dimension, giving a unique effect and she is constructed of 18 gauge powder-coated steel to impress and endure. The piece changes color with the lighting and the direction viewed. No two pieces are alike. The unique wall mount system places it about one inch from the wall. Measures 22" X 24.75"
This is a strikingly beautiful representation of vibrant color and design that will enhance any wall. SHE IS A DEFINITELY "MUST SEE" IN BRILLIANT WHITE OR OPAQUE LIGHT....ASTONISHING!
(excluding shipping)
*You will be sent one of these two styles*