Welcome to the online gift shop at the Mermaid Cove!     
You are now about to leave the safety of solid ground and give into the beckoning call of the mesmerizing sea.
We are mermaid merchants, relentlessly scouring the earth everyday in a quest....a quest to capture every conceivable embodiment of the mermaids essence.   So on with you mates and maties!
Embrace the enchantress of the sea and venture into the depths below on your own personal quest.... Your quest to capture the sea mistress of your desires....or of course....one of her "friends"!
WALL MIRROR-MERMAID & DOLPHIN
TOP1921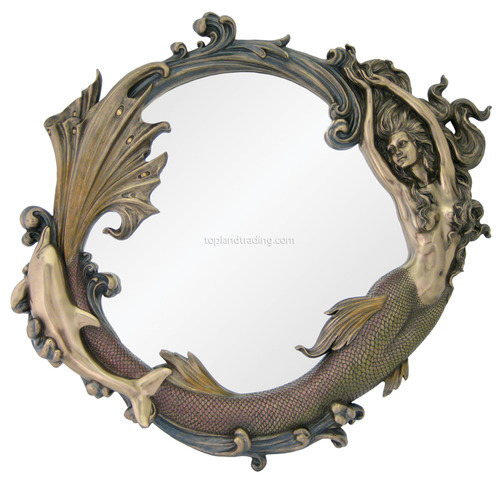 Dramatic and extraordinary! This mirror resonates energy and momentum as a siren of the sea and her dolphin friend swim with passion; casting your reflection, drawing in your imagination, and expanding your mind to embrace the enchantress of the sea. Constructed of high quality poly-resin, a smooth bronze-like finish creates it's striking appearance. She measures 24 inches in diameter. A fascinating gift...or a treasured addition to your home...guaranteed to astonish!
(excluding shipping)
*You will be sent one of these two styles*