Welcome to the online gift shop at the Mermaid Cove!     
You are now about to leave the safety of solid ground and give into the beckoning call of the mesmerizing sea.
We are mermaid merchants, relentlessly scouring the earth everyday in a quest....a quest to capture every conceivable embodiment of the mermaids essence.   So on with you mates and maties!
Embrace the enchantress of the sea and venture into the depths below on your own personal quest.... Your quest to capture the sea mistress of your desires....or of course....one of her "friends"!
WEATHERVANE-MERMAID
MDWV-518P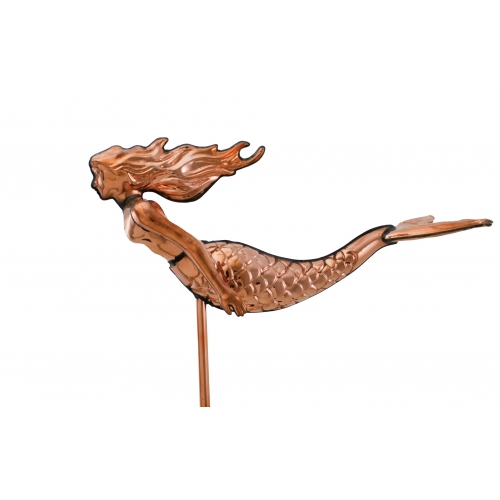 She swims with passion in the sea of life! Expressive, enlightening and distinctive...this mermaid has a purpose. Slightly more compact in size, however, just as large in impact and statement. High quality, polished, pure copper for outdoor display that sets your home apart. Comes complete with copper spacer balls, brass directionals, and steel mounting rod. Mounting hardware included. Measures 13"H x 17.5"L.
Out of Stock as of 12-2014
(excluding shipping)
*You will be sent one of these two styles*