Welcome to the online gift shop at the Mermaid Cove!     
You are now about to leave the safety of solid ground and give into the beckoning call of the mesmerizing sea.
We are mermaid merchants, relentlessly scouring the earth everyday in a quest....a quest to capture every conceivable embodiment of the mermaids essence.   So on with you mates and maties!
Embrace the enchantress of the sea and venture into the depths below on your own personal quest.... Your quest to capture the sea mistress of your desires....or of course....one of her "friends"!
AMONG THE MERMAIDS
C1803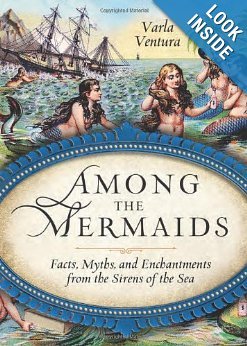 'Among the Mermaids' is an enchanting collection of classic stories, facts, and tales of mermaids from around the world that will thrill every lover of this romanticized mythological creature.
Compiled by 'Book of the Bizarre' author and magical creature devotee Varla Ventura, 'Among the Mermaids' includes turn of the century tales of merfolk from Bret Harte, Crofton Croker, and W.B. Yeats, along with tantalizing trivia, facts, first-hand accounts, and speculations about mermaids in popular culture. We, Mermaids Cove, are even recommended in "The Tail End of This Book" as one of Varla's favorite places to shop!
Caution.....some accounts of occurences may curl your tail!!
Quantity
One Book (0) Two Books (SAVE $1.90) (14.05)
(excluding shipping)
*You will be sent one of these two styles*