Welcome to the online gift shop at the Mermaid Cove!     
You are now about to leave the safety of solid ground and give into the beckoning call of the mesmerizing sea.
We are mermaid merchants, relentlessly scouring the earth everyday in a quest....a quest to capture every conceivable embodiment of the mermaids essence.   So on with you mates and maties!
Embrace the enchantress of the sea and venture into the depths below on your own personal quest.... Your quest to capture the sea mistress of your desires....or of course....one of her "friends"!
MARBLE PLAQUE-ABC'S OF LIFE
HP3938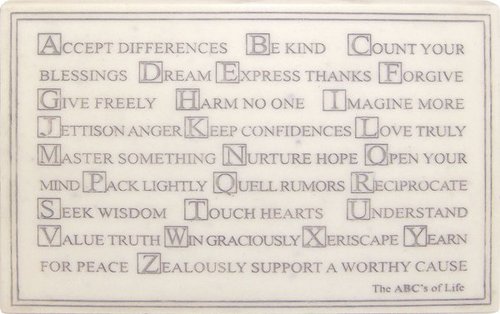 White marble finish and has a picture easel for desktop and a picture hook for hanging.
Text reads:
Accept differences Be kind Count your blessings Dream Express thanks Forgive Give freely Harm no one Imagine more Jettison anger Keep Confidences Love truly Master something Nuture hope Open your mind Pack lightly Quell rumors Reciprocate Seek wisdom Touch hearts Understand Value truth Win graciously Xeriscape Yearn for peace Zealously support a worthy cause
7.00" Wide
5.00" High
.375" Deep
(excluding shipping)
*You will be sent one of these two styles*