Welcome to the online gift shop at the Mermaid Cove!     
You are now about to leave the safety of solid ground and give into the beckoning call of the mesmerizing sea.
We are mermaid merchants, relentlessly scouring the earth everyday in a quest....a quest to capture every conceivable embodiment of the mermaids essence.   So on with you mates and maties!
Embrace the enchantress of the sea and venture into the depths below on your own personal quest.... Your quest to capture the sea mistress of your desires....or of course....one of her "friends"!
MERMAID WALL PLAQUE
1HCP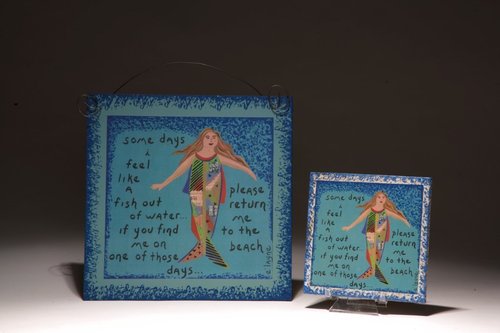 Art for the Wild-at-Heart. Handcrafted by Tallahassee artist E'Layne Koenigsberg, she specializes in whimsical, fun art that soothes the soul and eases the mind, manifesting the power of dreaming big. This hanging wood wall plaque measures approximately 100 square inches and comes in either aqua or amber. The large plague is always in stock in at least one color, the smaller one is special order at $19.95. We never know which color may run out first...so please call...or send an email to verify color availability.
Color Choice
Amber Background (0) Aqua Background (0)
(excluding shipping)
*You will be sent one of these two styles*