Welcome to the online gift shop at the Mermaid Cove!     
You are now about to leave the safety of solid ground and give into the beckoning call of the mesmerizing sea.
We are mermaid merchants, relentlessly scouring the earth everyday in a quest....a quest to capture every conceivable embodiment of the mermaids essence.   So on with you mates and maties!
Embrace the enchantress of the sea and venture into the depths below on your own personal quest.... Your quest to capture the sea mistress of your desires....or of course....one of her "friends"!
PRINT-CATCH OF THE DAY
WIL1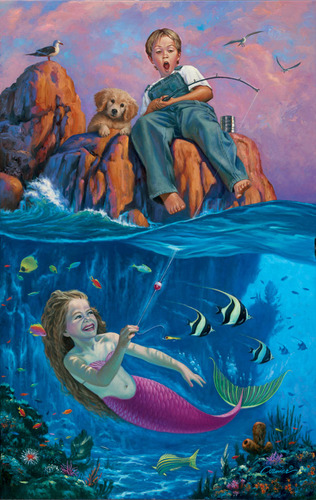 Mermaids of Atlantis has been brought to life by internationally acclaimed artist Wil Cormier.
These mermaid prints take you on a breathtaking underwater journey amidst these fascinating monarchs of the deep. It is an astonishing original series of mermaid art that will stir your imagination and actually bring this mythological undersea world to reality. While the "originals" cost thousands of dollars, these signed open edition prints can be purchased for a fraction of the cost.
Size 17 X 22
(excluding shipping)
*You will be sent one of these two styles*